Buck 110 / 112 Quick Draw Knife Sheath
$

75.00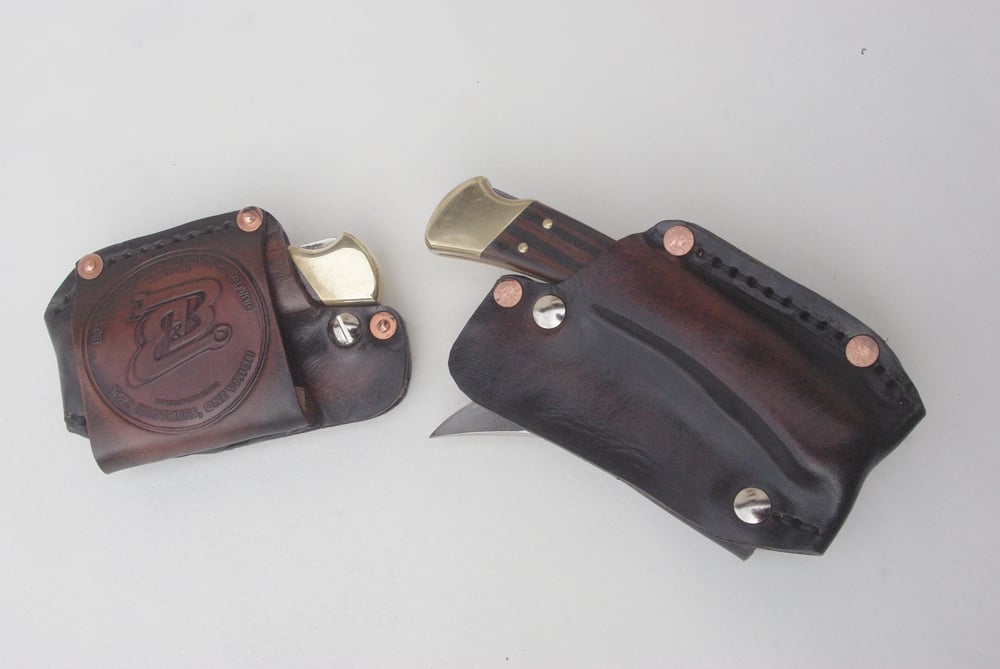 Hand crafted heavy duty leather Buck 110 (or other 3.75"-4.25" LOCK BACK folder) sheath- allows one handed draw and unfold action! Hand cut, formed, colored, sewn and riveted in the USA
We also have a sheath to fit the Buck 112 (or other 2.75"-3.50" lock back folding knives)
The left handed version mounts on the right side of the belt for a crossdraw using your left hand, or on the left hip for a rearward draw.
********KNIFE NOT INCLUDED**********
THE FINE PRINT:::
NOTE:>>>It is important that you are purchasing this for a lock back knife, as other styles of non-locking folders may not have the correct spring tension to a) hold the blade closed on the nylon spacer, or b) have the correct "spring-open" action as the blade is opened to a certain point. This sheath design relies on both of those factors. WILL NOT work with spring assisted blades because the spring tension is the reverse of what is necessary to keep it closed in the sheath!
CHECK LOCAL LAWS BEFORE ORDERING- this sheath does nothing to modify the knife operation at all, and in fact the knife can be carried in the sheath in the fully closed position, however some local laws may prohibit the carrying of a knife of this size, or have arcane laws on the books regulating sheaths.
These are made to order, PLEASE ALLOW 5-7 business days turnaround time before shipping.
Share