"The Kit Carson II" - Leather Pocketbook
$

135.00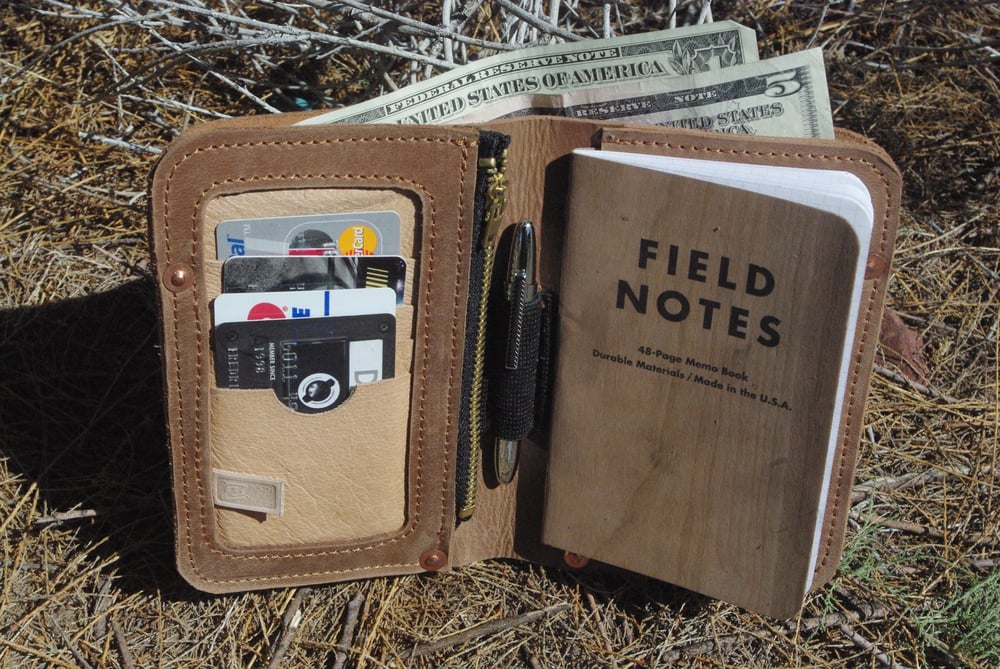 This shorter version of the kit Carson has superceded the original- 1" shorter for an overall height of 6", and only a little bit wider at 4 3/8" to accomodate the pen/pencil slot in the spine.
Please note, this is a large wallet and may not fit some pants with smaller pockets (fits most all jeans and Dickies twill pants).
It still has four card slots in natural pigskin, and a zipper pouch for coins and cards. And, it still holds your trusty field Notes pad (or a passport, which is just a titch smaller). And of course, it is still made from durable, soft, thick, distressed oil-tanned cowhide.
You can choose it without the Field Notes and pen if you want to supply your own, or you can add on a USA made Fisher Bullet Space Pen and a 3 pack of Field Notes pads to complete the package!
*NEW* Add a brown braided leather lanyard to match the wallet, with a B&B hand bent solid brass hook, a solid brass trigger snap, and a brass ring jumper sewn to the wallet! Just order whichever wallet version you would like- with or without Field notes and pen, then visit the "Lanyard" section to order the lanyard separately.
Each wallet is custom MADE TO ORDER, please allow 4-5 days turnaround time.
Share